Doctor Strange in The Multiverse o Madness - The Loop
Play Sound
Real Name: Unrevealed, possibly Jim, Robin, and Harry
Case: Lost Friends
Location: Ardennes Forest, Belgium
Date: December 24, 1944

Case
[
]
Details: This story is one of the most remarkable tales to ever come out of World War II – remarkable for the fact that it involves no fighting or bloodshed. In January 1973, Reader's Digest magazine published the account, titled "Truce in the Forest." And in 1985, it was a focal point of a speech given by then-President Ronald Reagan. Now, Fritz Vincken, the German man at the center of the story, hopes to find three unknown American soldiers and write the closing chapter of this amazing saga.
In December 1944, the battered German army launched its last great offensive along an 85-mile front in Belgium's Ardennes Forest, the infamous "Battle of the Bulge." Nearly 16,000 American soldiers would lose their lives. Another 60,000 would be wounded or captured. It was the costliest battle the United States would wage in any war.
Within earshot of the fighting, on the edge of the Ardennes Forest near the German/Belgian border, stood a small, isolated hunting cabin. There, Fritz, then twelve, lived with his mother Elisabeth. His father, Hubert, had moved his family from their hometown of Aachen, Germany, to the cabin in October 1944 for safekeeping. Their home in Aachen and Hubert's bakery had been damaged the previous April by allied bombing.
Life in the forest was difficult. While Hubert served as a civilian baker for the German army twenty miles away, Fritz and Elisabeth struggled to put food on the table. Fritz says that Hubert thought that the war would be over by Christmas. But that was not to be. Their stay in the cabin was much longer than they anticipated.
Christmas Eve, 1944, arrived with an air of sadness and uncertainty. Hubert had still not returned. And his family was resigned to the fact that they would be spending the holiday without him. Elisabeth tried to comfort Fritz, saying that Hubert would have come home for Christmas if he was able to. She figured he was held up with work and the weather. She tried to make the evening as festive as possible. She scraped together a Christmas meal of a few potatoes and a scrawny pet rooster. The rooster, named "Hermann", had been making too much noise for them to feel safe.
As Elisabeth made dinner, there was a knock at the door. Fritz believed that it was Hubert. Elisabeth blew out the candles and went to the door. Fritz went with her. When she opened the door, they discovered three American soldiers outside. They tried to talk to Elisabeth, but she and Fritz did not speak English. One of the soldiers had been shot, and they were all suffering from frostbite. They asked if they could come inside. She eventually agreed, using hand motions to invite them in.
Elisabeth knew full well that harboring the enemy was punishable by death. But seeing the state the soldiers were in, she was more than willing to take the risk. The injured soldier had been shot in the leg and lost a great deal of blood. She had the others place him in a bed and did her best to make him comfortable. She tore her bed sheets to make bandages for him.
One of the soldiers asked Elisabeth if she spoke French; fortunately, she did. He was able to explain to her that they had lost their unit. For the past two days and nights, they had been wandering through the Ardennes, hiding from Germans. They had all but given up hope when they spotted smoke rising from the cabin.
Fritz says that Elisabeth was "all motherhood." She worried for the soldiers, especially the wounded one. She did everything she could with what she had available. She and Fritz added potatoes, greens, and water to the meal to make it a soup for them and the soldiers. He recalls that the soldiers were very nice, like "big boys" from the neighborhood. Elisabeth made them feel right at home. They began to relax, in anticipation of an unexpected Christmas dinner.
Then, there was another knock at the door. Fritz and Elisabeth thought that it must be more Americans. Fritz went and opened the door. To their surprise, there were four German soldiers outside. He was petrified with fear. They said that they had lost their unit and asked if they could warm up for a bit. Elisabeth told them that, not only would they be allowed to warm up, they would get a nice dinner, but only if they accepted her guests.
Elisabeth said to the Germans, "This is Christmas night. There will be no shooting around here. Put your arms in the wooden shed. And then we can have a nice Christmas." They agreed to put their weapons in the shed. Meanwhile, Elisabeth turned to the Americans, who, by then, noticed that some Germans were coming. She told them to turn in their weapons as well. They also agreed. She then told Fritz to get more potatoes and water, as they had "more mouths to feed."
For a minute or two, there was tension in the room. But then, according to Fritz, the warmth and good smells began to "take the edge off." There was a sense of hospitality in the room. The Germans produced a bottle of wine and a loaf of bread. The Americans shared their cigarettes. They discovered that one of the German soldiers spoke English. He told them that he was a medical student before the war.
The German soldier went over to the wounded American soldier and asked the Americans in English what was wrong with him. They told him that he had been shot. He looked at the wound and determined that, although the American soldier had lost a lot of blood, the cold weather prevented his wound from being infected. He said he should recover, provided some rest and nourishment. He also had a first aid kit, and applied dressing to the wound. Throughout the evening, he would, every now and then, go and look after the wounded soldier.
That night, hostilities ceased in at least one corner of the forest, as American and German soldiers sat down together to honor the Christmas spirit. Elisabeth said grace; however, it was not a regular prayer, it was something spontaneous. She said, "Let's all be thankful to the Lord for being together tonight, being peaceful in this terrible war. Let's enjoy dinner, the little things that we have. And let's promise to be friendly to each other forever, if possible. Let's also pray for an end to this terrible war, so that we all can go home very soon."
Fritz says that by that time, all of the soldiers were crying. He was surprised to see even the German Sergeant in tears. When they ate, the tears disappeared. But from then on, there was a feeling of friendship that permeated the whole room. He says it was wonderful and unforgettable.
After dinner, the soldiers drifted outside one by one. Elisabeth and Fritz soon joined them. As they gazed heavenward, each gave thanks in their own way. That night, the men would sleep side by side under the same roof, the differences of war temporarily set aside. Fritz says the soldiers were so peaceful. One would never think that they were two different kinds of soldiers, and that just one day before, they would have shot each other.
Fritz remembers that the spirit of brotherhood continued the next morning. The Germans helped construct a makeshift stretcher for the injured American, and then gave the other Americans directions back to their line. One of the Americans asked if it would be quicker to go to Monschau, which had been held by the Allies. The Germans told them no because the Nazis had retaken Monschau. This bit of information may have helped save the American's lives. That same day, Fritz and Elisabeth left with the Germans, and were soon reunited with Hubert. Five months later, the war ended.
Fritz saw the Americans as "liberators" and became fascinated with everything American. In 1958, he married. In 1959, he immigrated to the United States. A few years later, at the urging of American friends, he submitted the story to Reader's Digest. A senior researcher for the publication tracked down Elisabeth to Aachen. She and Hubert had remained there after the war. She confirmed the amazing story.
In 1963, Hubert passed away; in 1966, Elisabeth passed away as well. Today, Fritz is an American citizen living in Honolulu, Hawaii. Like his father before him, he owns and operates a bakery, "Fritz's European Bakery", which he opened in 1971. But that special night in 1944 remains a defining moment of his life. He now hopes to find the soldiers who helped him learn the true meaning of Christmas.
Fritz says that it showed him what his mother could do. And it showed him what one single human being can do to avoid bloodshed and to bring peace. It also showed him at a very early age that "we are all alike. No matter what uniform we wear, we have the same joys, the same sorrows, the same problems." He says it was a very significant experience. He will never forget it. He also feels obligated to spread his mother's message that people should always be willing to help each other, no matter the situation.
Fritz recalls only scant details about the American soldiers. He believes that the man who spoke French was named "Jim". He had dark hair and a stocky build. He had studied banking in Ohio. The second soldier was named "Robin" or possibly "Warren". He was tall and slender with blond hair. The wounded soldier was named "Harry" and nicknamed "Herby". He had dark hair and a slight build. Two of the German soldiers were named "Heinz" and "Willi"; they were both sixteen. The German corporal was twenty-three.
Extra Notes:
This case first aired on the March 24, 1995 episode; it was updated on the February 23, 1996 episode.
It was also featured in a Lifetime movie called Silent Night.
It was submitted to the show by Fritz.
Some sources say it took place in Hurtgen Forest.
Actor Taran Killam played young Fritz. He is also the great-nephew of Robert Stack.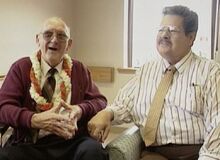 Results: Solved. After this story re-aired in October 1995, a man named Eldridge Ward called the tele-center. He is a volunteer chaplain at the Northampton Manor Nursing Home in Frederick, Maryland. He recognized Fritz's story as one often recounted by a seventy-six-year-old resident named Ralph Henry Blank. Ralph, a retired bricklayer from Frederick, had moved to the nursing home a year earlier due to heart problems. Unsolved Mysteries looked into Ralph's background and learned that in 1944, he had been a sergeant serving with the 121st Infantry, 8th Division, of the U.S. Army in Belgium. Along with Eldridge, Ralph had also told the story several times to his family.
Fritz immediately phoned Ralph, and he confirmed that he was one of the soldiers who had celebrated Christmas with Fritz and Elisabeth. Fritz asked Ralph whether he remembered him from that night in the Ardennes, and he said, "Oh yes, I remember you, you must be Fritz!" He even still had the map and compass that one of the German soldiers gave him. Fritz was very excited that Ralph had been found and he could hardly wait to meet him.
On January 19, 1996, Fritz flew to Maryland to meet Ralph. The two were joyfully reunited at Ralph's nursing home. Fritz says that he just had to look in his eyes, and he knew it was him. Ralph recognized him as well, even though they had changed so much over the years. Fritz says it was a great experience to be able to see him again. He was especially happy when Ralph told him, "Your mother saved my life," He was glad that her courage had not been forgotten.
Ralph says that he never thought he would ever see Fritz again when he left Germany. He says that the day of the reunion was a special one for him. Coincidentally, it took place just a day after another exciting event, Ralph's fiftieth wedding anniversary. To cap the joyous celebration, his daughter-in-law fixed the same meal Elisabeth had served some fifty-two years ago: a hearty bowl of chicken soup.
Fritz says that the reunion was "the high point of [his] life" and a fulfillment of a lifelong dream. It was something he had given up all hope to experience. He and Ralph are proof that true friendship and brotherhood can endure time, distance, and the ravages of war.
Fritz was also later reunited with another one of the American soldiers. It is not known if any of the German soldiers were located; however, it was noted that the German Army had a high causalty rate in the final months of the war, leading Fritz to believe that they may have died in battle.
On May 21, 1999, Ralph passed away at the age of seventy-nine. On December 8, 2001, Fritz passed away at the age of sixty-nine.
Links:
---