Spider-Man: No Way Home Trailer Dropped - The Loop
Play Sound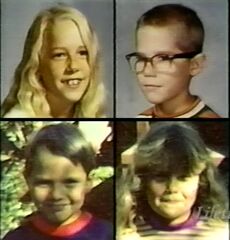 Real Names: Mark and Tammy Gardner
Case: Lost Foster Siblings
Location: Napa, California
Date: 1968
Case
[
]
Details: In December 1968, Dorothy and Robert Reis of Napa, California, welcomed two five-year-old foster children, Mark and Tammy Gardner, into their home. Sadly, Mark and Tammy, who were fraternal twins, had been severely abused, both physically and emotionally. Both were developmentally disabled, and Tammy had trouble walking and talking. For the Reis's five-year-old daughter Debbie, none of that mattered; she was happy to finally have two siblings. Tammy was very scared at first, while Mark opened up quickly, often speaking for Tammy. Soon, both Tammy and Mark began to heal in the supportive atmosphere of the Reis home.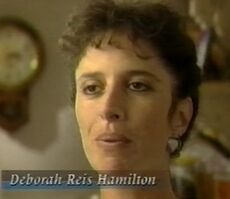 A year later, the Reis fostered two more children, siblings six-year-old Kelly and four-year-old Terry Clay. The four foster siblings and Debbie became very close together, and they lived as if they were biological siblings. Due to their developmental problems, Mark and Tammy were placed in special education classes. Sadly, several children at school teased them as a result. However, Debbie would always step in to protect her foster siblings.
By 1974, the Reis family and the foster children had lived together for six years. Dorothy and Robert had planned to adopt the four children, but the couple had gotten into an argument with the adoptive agency. As a result, they were forced to give the children away. Robert decided to tell them that they had to be given up because of his heart problems. Debbie noted that the house was eerily quiet after her foster siblings left.
A year passed; then, in 1975, Debbie was at the stable where she boarded her horse, when Mark surprised her with one final visit. The two were very happy to see each other; tragically, Mark told her that he and Tammy were being abused by their new foster parents. Dorothy and Robert tried to contact the adoption agency, but they were told not to get involved because they were not their children. That day was the last time that Debbie saw Mark.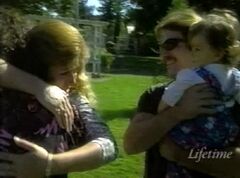 Twenty years passed; Debbie married and began searching for her foster siblings. Finally, in September 1995, she was reunited with Kelly and Terry Clay. However, she is still searching for her other long-lost foster siblings, Tammy and Mark Gardner.
Extra Notes: The case was featured as a part of the December 1, 1995 episode.
Results: Solved. On the night of the broadcast, Mark's son was watching and called the telecenter. Within the hour, Debbie and Mark were talking to each other on the phone. Soon after the broadcast, Debbie was reunited with Mark and Tammy after a twenty-year separation.
Links: None
---