Cobra Kai Season 4 - The Loop
Play Sound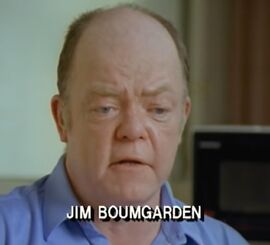 Real Name: Unrevealed
Case: Lost Siblings
Location: Cook County, Illinois
Date: March 29, 1947

Case
[
]
Details: For years, James Ernest "Jim" Boumgarden has been haunted by the specter of a strange double. The man looks and talks exactly like him, with friends and family mistaking the man for Jim. He seems to be everywhere; or at least, everywhere Jim isn't. One bizarre encounter happened to Jim's brother-in-law, Rick Holder, at a company softball game in Rockford, Illinois, in 1984. As Rick went up to bat, he recognized the opposing team's pitcher as Jim, even though he was supposed to be twenty miles away at home. Rick called out to him but received no response. After the game was over, he went up to the man, shook his hand, and tried to talk to him. However, the man seemed confused; he gave him a funny look and then walked away. Five years later and just a few miles away, Jim's father Ernie was leaving his doctor's office when he thought he saw Jim in the parking lot. Ernie called for his son, but received no response from the man. The man then got in a car (which was similar to Jim's) and left. Of course, Jim later confirmed that he was not the man they had seen.
Jim spent his childhood in a suburb of Rockford, Illinois. He knew he had been given up at birth by his mother, but he had no idea who she was. He loved his adoptive family and his life was happy and uneventful. However, after hearing the stories from Rick and Ernie, Jim remembered a strange incident that happened to him when he was eleven. While visiting his grandparents in Rochelle, Illinois, he was approached by several neighborhood kids who called him "Billy" and asked him to play basketball with them. Jim told the other kids that his name wasn't Billy, but they were also confused. Jim then walked away. He filed the incident in the back of his mind, not thinking about it for years. After high school, he joined the Army and served a tour in Vietnam. In 1978, he married Cindy Holder. They settled near Rockford and had two children.
Often in Rockford, people Jim did not recognize would greet him in an unusually friendly way, as if they had known him. He brushed off these experiences, believing that he just forgot meeting these people. However, he had trouble explaining the sightings of himself in places that he had never been to. Finally, on Christmas Day, 1991, the strange encounters culminated at a mini-mart just five blocks from Jim's house. Cashier Sherli Herlien served a customer that she believed was Jim. She recalled that he walked, talked, and had the same mannerisms as Jim. Just a few minutes later, Jim and Cindy walked in. Sherli asked Jim if he had forgotten something, but he told her that this was the first time that he had been there that day.
Three weeks later, Cindy was visiting Jim's grandmother Sophie when she mentioned Jim's strange encounters with his apparent double. Sophie grew oddly quiet when the encounters were mentioned. Jim's father Ernie had died a few months earlier and had previously told Sophie a secret that she finally revealed to Cindy that day: Jim had a twin brother. Ernie had learned about the twin while preparing to adopt Jim. He did not like keeping it a secret, but he figured that it would be better that way because Jim would never know his brother. Jim was excited to learn that he did indeed have a twin brother.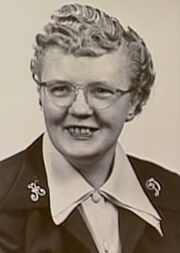 Jim began searching for his birth family. He obtained a family history from the adoption agency. To his disappointment, no names were used. However, the document did mention that Jim's birth mother had a nephew who drowned at the age of fourteen. Jim spent hours searching through old newspapers at the library until he found a story about his birth cousin's drowning in 1945. Finally, he had come up with his birth mother's family name: Hieronimus. Through the phone book, Jim located a woman by that name who lived just twenty miles away.
The woman was Myrtle Hieronimus; she identified herself as Jim's aunt, his birth mother Hazel's sister. Myrtle showed him a photograph of her. He learned that she had died three years earlier. He also learned that Hazel had cut herself off from the family years earlier; they had known nothing about the birth of Jim and his twin. However, Myrtle did know that Hazel had given birth to a daughter, born at St. Anthony's Hospital in October or November 1945.
Finally, Jim was able to visit his birth mother's family plot. Her maiden name was Hazel Georgetta DeBaufer. Eventually, she married a man named Carner, also now deceased. Jim has now found everyone in his birth family except for his siblings. He still hopes to find his half-sister and twin brother.
Extra Notes: The case was featured as a part of the September 2, 1992 episode.
Results: Unresolved. After the broadcast, Jim tried to access his adoption files. A sympathetic judge agreed to contact his biological half-sister's adoptive family and tell them of his search. Forty-seven-year-old Judy Sullivan then learned for the first time that she had a brother. The two were reunited the next day. Sadly, Jim never met his twin brother. He died on July 25, 1994, a year after his reunion with Judy. He was forty-seven.
Judy and Jim's other family members are still searching for the twin. He was born in the Salvation Army Hospital in Cook County, Illinois, on March 29, 1947. He was adopted by a family in Rochelle, Illinois. His first name may have been "Billy". According to Jim's son, it is believed that the twin may not want to have contact with his family. However, this has not been confirmed.
Links:

---