Cobra Kai Season 4 - The Loop
Play Sound
Real Name: James Arthur and Tamara Christine Robinson
Case: Lost Siblings
Location: Carson, California
Date: 1971
Case
[
]
Details: In 1971, thirteen-year-old LeeAnn Robinson lived in Carson, California, with her younger half-siblings, six-year-old Jimmy and four-year-old Tammi, and their mother, Doris. Sadly, Doris was ill with cancer, so LeeAnn was virtually the primary caregiver in the household. Doris and LeeAnn's father had divorced seven years earlier. Ellen Morrill, a neighbor, was close to the family and often visited Doris to check on her condition. On her deathbed, Doris asked Ellen to take care of the children; Ellen agreed. Just a few hours later, Doris passed away.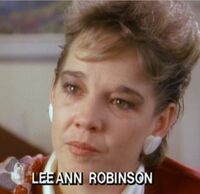 LeeAnn, Jimmy, and Tammi all moved in with Ellen and her three children. The small house was hectic but everyone got along well. However, a social worker assigned to the case felt that Ellen could not provide an adequate home for LeeAnn, Jimmy, and Tammi. The social worker tracked down Leann's father and also looked for a couple to adopt Jimmy and Tammi.
Sadly, LeeAnn had to say goodbye to her brother and sister; she was sent back to Texas to live with her father. Several months later, on May 2, 1972, Jimmy and Tammi were adopted. For years, LeeAnn tried to write to her siblings through the adoption agency; however, she never received an answer. Thirteen years passed; during this time, LeeAnn returned to California, married, and became a successful businesswoman. In 1987, she finally received a response from the adoption agency about the couple who adopted her siblings. They were both twenty-six-year-old, Catholic, and living in Ventura County, California. The adoptive father was a career navy-man who in 1973 had the rank of 1st class Petty Officer. They had been married for three years when they adopted Jimmy and Tammi. However, the agency lost touch with the family in 1976 when they were transferred to New York.
LeeAnn is now searching for her long-lost siblings.

Extra Notes: This segment was featured as part of the December 6, 1989 episode.
Results: Solved. On the night of the broadcast, Leeann's sister, now Tammi Bouchard, was watching and called the telecenter. She is now married, has two children, and lives in Auburn, Maine. Jimmy, now James Chapman, is an Army sergeant stationed in Jolan, California.
On December 10, 1989, LeeAnn, Jimmy and Tammi were joyfully reunited at LeeAnn's home in Los Angeles.
Links:
---