Cobra Kai Season 4 - The Loop
Play Sound
Real Names: Craig "Chipper" and Christopher "Chrissy" Lamerand Schwaite
Case: Lost Brothers
Location: Toledo, Ohio
Date: April 1963

Case
[
]
Details: Tina Lamerand Shiets of Toledo, Ohio, is searching for her two brothers, whom she was separated from after their twenty-six-year-old mother, Patricia Lamerand Schwaite, was killed in a car accident on April 6, 1963. On that day, Patricia lost control of her car while driving to her aunt's house where her three children were waiting for her. That evening, a news story showed the accident; Tina realized that it was her mother's car, but was too young to understand the seriousness of the situation.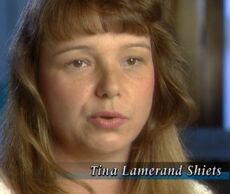 Her two brothers, one-year-old Craig (Chipper) and two-year-old Christopher (Chrissy), were soon sent to foster care and later adopted by another family; Tina was placed in the custody of her maternal grandparents. At first, Tina believed that she had done something wrong that caused her mother and brothers to be taken from her. As she got older, she hoped to find her brothers.
When she was sixteen, Tina began searching for her brothers. Her great aunt gave her the address where her brothers were sent to after the accident. She went to the address, only to find that the boys had moved. Tina went door-to-door asking the neighbors for help. One of the neighbors remembered Tina's brothers, along with the name of their foster mother, Doris Cindle.
Eight years later, she was able to contact Doris. She learned that Doris had taken care of Craig and Christopher for two years until they were adopted by a family from Michigan. Doris gave Tina several photographs and a video of the boys. However, Doris did not know anything about the family that adopted the boys. Tina then asked sketch artist Lois Gibson to create age progressions of the boys to show how they would look today. Tina now wants to be reunited with her brothers.

Extra Notes: The case was featured as a part of the December 8, 1995 episode.
Results: Solved. On the night of the broadcast, Chris and Craig's aunt called the telecenter. She contacted the boys' biological father, who also called the telecenter. Just minutes later, Tina talked to her youngest brother, Craig Schoolcraft, on the phone for the first time in decades. She soon talked to Chris, who said that he still had memories of his older sister. A few weeks later, the three were reunited at Craig's home in Petroleum, West Virginia; the siblings also celebrated Christmas together for the first time in thirty-two years. Chris later moved to Houston, Texas, to be closer to Tina.
Links:
---