Real Names: Thomas Paul Hickey and William Charles McCarthy
Aliases: T-Bone, Grover (Hickey); James Fisher, Mark David Matthews (McCarthy)
Wanted For: Drug-Trafficking
Missing Since: November 1986

Details: Thomas Hickey and William McCarthy were drug traffickers who operated a large scale marijuana distribution ring in Indiana and Michigan from 1979 through 1986. During this time, drugs worth over $50 million were passed through the ring. In November of 1986, they, along with six others, were indicted on forty-three criminal counts relating to drug trafficking. However, they fled Indiana before police could apprehend them.
Hickey is said to be a charming individual. He has owned antique stores and is an avid fisherman. McCarthy is believed to be traveling with his wife and six-year-old daughter. In May of 1989, he was sighted in Vancouver, British Columbia.
Extra Notes: The case was featured as a part of an FBI Alert in the January 9, 1991 episode, along with Arthur Washington Jr. and Juan Jackson.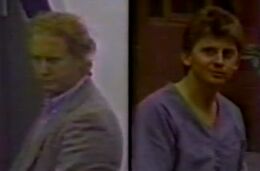 Results: Captured. In response to a viewer tip, Hickey was arrested by FBI agents just four days after the broadcast. He was living in Bainbridge Island, Washington under the assumed name "Paul James Kelly". One week later, McCarthy was arrested near Victoria, British Columbia after authorities received a tip from another viewer. He was living under the assumed name "Allen Scott Daly" with his wife and daughter.
Hickey and McCarthy were returned to Indiana to stand trial. In April of 1991, Hickey pleaded guilty to conspiracy to distribute marijuana, among other charges. He was sentenced to twenty years in prison. McCarthy also pleaded guilty to similar charges and was sentenced to fifteen years in prison. He was released from federal prison in 1996, while Hickey was released in 1997.
Links:

---
Community content is available under
CC-BY-SA
unless otherwise noted.