Cobra Kai Season 4 - The Loop
Play Sound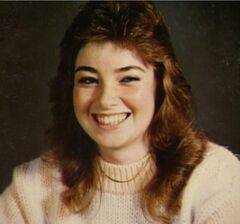 Real Name: Tracey Lynn Kirkpatrick
Nicknames: No known nicknames
Location: Frederick, Maryland
Date: March 15, 1989

Case
[
]
Details: Seventeen-year-old Tracey Kirkpatrick was an introspective, pretty teenager from Point of Rocks, a small town near Frederick, Maryland. The third of four children, she was an honors student who loved reading and writing poetry. In early 1989, she read her family a haunting poem written by Christina Rossetti. Tracey seemed to be asking them not to grieve for her when she was gone. "Remember me when I am gone away, gone far away into the silent land when you can no more hold me by the hand."
According to Tracey's mother, Diane, Tracey and her boyfriend had recently broken up. She was apparently expressing her feelings through her writing. She wrote a lot of "lonely" poems. Diane described her as very intelligent and a hard worker. She loved people and loved to be around them. She also loved having a lot of friends.
During Tracey's senior year in high school, she held down two part-time jobs, one of them a sales clerk at Aileen's Ladies Sportswear in Westridge Square Shopping Center. She took the jobs to help pay for business college, which she planned to attend in the fall. She hoped to one day become an attorney. On the night of March 15, 1989, she was assigned to close the store and tally up the day's receipts. It was the first time she had ever closed by herself. Diane and the manager stopped in at different points of the evening. Fifteen minutes before closing time, Tracey was alone; it was 8:45pm.
Two hours later, at 10:50pm, a shopping mall security guard noticed that the lights inside the women's clothing store were still on. The front door was unlocked. The guard called out but received no response. He walked toward the back of the store. In a storage room, he found Tracey's lifeless body on the floor; she had been stabbed multiple times in the chest and back. Drops of blood led down the rear hallway towards the loading dock. He immediately notified police.
At almost the same moment, Tracey's parents, Billy and Diane, were en route to the shopping mall. It was nearly 11pm, more than an hour after she usually returned home. When they arrived there, they were shocked to discover police cars surrounding it. They got out and told police that their daughter was inside. They were then told that Tracey was dead. Diane did not remember much after that; she was later treated at a hospital for shock. Tracey's family could not understand why anyone would have wanted to kill her.
Police could find no apparent motive for Tracey's brutal murder. There was no sign of sexual assault. The day's cash receipts were left untouched on the counter; however, her purse was missing. There were no signs of forced entry. Since there were no indications of a struggle, police believed that the murderer was someone she knew. A thorough analysis of the crime scene turned up latent fingerprints but no other physical evidence. The case was stalled. Then, three months later, in June 1989, police got their first real lead when a mysterious telephone call was recorded by a nationwide confession hotline in Las Vegas.
The caller began by saying: "Hello. My name is Don, and I'm calling from Frederick, Maryland. I know this is going to sound surprising, but three months ago, I stabbed a girl to death. And you might think that in making this tape, I'm setting myself up to be caught, but there are a lot of guys named Don in Frederick." The hotline immediately notified the Frederick police. Detective Barry Horner listened to the tape and heard sincerity in the caller's voice. He also felt that the caller had direct knowledge of the crime. He became convinced that the caller was Tracey's killer.
Detective Horner thought the caller's knowledge of the case was convincing. He took the tape to his chief. In the tape, the caller continued by saying: "The girl I killed was working in a ladies' sportswear store. I often came by and talked to her when she was working alone…and one night when she was in the storeroom and we were talking, our conversation turned into an argument. And so I took out a knife that I have with me at all times, and I killed her. And…uh…a few days later, I realized I had created a lot of sadness, and I thought about turning myself in to the police. But whatever they do to me, that won't bring Tracey back. So, I've decided that I better keep free because we have the death penalty in Maryland. Ah, thanks for listening. I'm sorry about what I did, but nothing can change it. Bye."
The call was traced to a Safeway supermarket in Walkersville, Maryland, which is seven miles north of Frederick. Detective Horner felt that if the caller was the killer, he wanted to be caught, and he was seeking help through the hotline. The police chief and other members of the police department decided to compose a letter to the caller, address it to "Don", and ask him to please come forward and talk to them. The letter was published in a local newspaper on October 10, 1989. Police received no response. But two weeks later, another unlikely phone call provided them with a new lead.
On October 24, Martha Woodworth, a Massachusetts woman with a reputation as a psychic, began to receive calls from a young man who identified himself as "Sean". He seemed obsessed with finding the person who had murdered Tracey. Martha told him that she needed more information before she could help. Eventually, he agreed to send her newspaper clippings. When she received the envelope with his handwriting on the outside, she thought that he had a much stronger involvement in the case than just being a friend who was interested. She found the handwriting extremely disturbed, so she felt it was her responsibility to alert the police that she had a potential suspect for them.
Chief Richard Ashton played the confession tape for Martha over the phone. She believed the voice was Sean's. She was shocked to hear him on tape confessing to the murder. She maintained contact with Sean for some time. Meanwhile, police checked out the return address on his envelope. It was in Walkersville, Maryland, the same town where the call-in confession had been made. However, the young man living at the address was not named Sean or Don.
At another dead end, the Frederick police turned to local radio stations for help. Several stations played the confession tape on-air on the anniversary of the murder. After the tape aired, three people claimed they thought they recognized the voice. Again, the man was not named Sean or Don, but he was the young man who lived at the return address on Martha's letter. Police searched his home the next day. They collected evidence from the home and sent it to the state laboratory to be examined. However, an examination and re-examination of the evidence was inconclusive. They were unable to determine if he had any involvement in the murder.
In the search, police found many newspaper clippings about Tracey's murder, but could find no evidence that the man knew her personally. He pled the Fifth Amendment and refused to answer any questions. Diane believes that someone saw or heard something on the night of the murder, whether it be someone leaving the store, running from the store, etc. She cannot imagine that a murder could happen and no one would know anything about it. Chief Ashton is frustrated that they have been unable to solve the case. However, he and his department have stated that they will not give up until they find out who did it.
On March 20, 1989, Tracey was buried in Oak Grove Cemetery near Pittsburgh, Pennsylvania. The poem she had once recited for her family was inscribed on her tombstone. Her family is offering a $5,000 reward for information leading to the arrest of her killer.
Suspects: Based on the lack of signs of a struggle, police believe that Tracey was killed by someone she knew.
"Don", who called the Las Vegas hotline and confessed to Tracey's murder, is considered a suspect. He made the call from a supermarket in Walkersville, Maryland, seven miles from where Tracey was killed.
"Sean", who contacted Martha and seemed strangely obsessed with Tracey's murder, is also considered a suspect. It is possible that "Don" and "Sean" are the same man. Martha recognized the confession caller's voice as belonging to Sean. He was discovered to be living in Walkersville, where the confession call was made. Three callers to a radio station also identified his voice as matching the confession caller's voice. However, no evidence was found in his house linking him to the murder.
The security guard who found Tracey's body is also considered a potential suspect in this case. Another potential suspect is Tracey's ex-boyfriend. According to Billy, Tracey told him that the two got back together the night before the murder.
Extra Notes:
This case first aired on the January 30, 1991 episode.
It was also featured on A Current Affair and "The Trail Went Cold" podcast.
The actual tape recording of the confession call was played during the broadcast.
Some sources spell her name "Tracy".
A similar case of an on-air murder confession is KROQ Confession.

Results: Unsolved. In 1993, Cpl. Robert Servacek took over the investigation into Tracey's murder. In March 1994, he stated that they identified a prime suspect in the case. At the time of the murder, the man lived in Frederick with his family. He was an acquaintance and former coworker of Tracey's who was a few years older than her. According to Servacek, jealousy, anger, and revenge were the motives for the murder. She reportedly thought of the man only as a "friend", while he read too much into the relationship and would not let her go. Servacek was certain that the man was the killer based on a large amont of circumstantial evidence against him.
In May 1994, a grand jury convened to hear the evidence against the suspect. Forty-six witnesses testified. The grand jury voted to indict him. However, the deputy state's attorney declined to prosecute him because she did not believe that she would be able to win a conviction. Servacek later claimed that "political and personal agendas" and "people not doing their jobs" prevented the arrest from being made.
The man calling himself "Don" and "Sean" was later ruled out as a suspect. In 2009, police noted that two suspects developed over the years remain "viable". One is the suspect investigated by the grand jury in 1994. Police have also stated that they do not have enough evidence to charge anyone at this time. Samples of evidence found at the scene have been submitted several times in an attempt to obtain a DNA profile. So far, they have been unsuccessful.
One of the potential suspects is believed to be Don Barnes Jr., the security guard that found her body. His daughter allegedly claimed that he was abusive toward her and her mother. She also believes that he was involved in Tracey's murder and had over an hour to cover up the crime. His father was the police chief at the time of her murder and some have suggested that he covered up evidence in this case. However, this has not been confirmed. Tracey's killer has yet to be identified or apprehended.
Links:
---