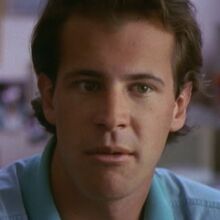 Real Name: Unrevealed at the time of broadcast
Case: Amnesia
Location: Las Vegas, Nevada
Date: January 28, 1991

Case
[
]
Details: On January 28, 1991, a young man was found wandering aimlessly through the desert, thirty miles from Las Vegas, Nevada. He was dressed in three layers of clothing, carried no identification, and had apparently been in the desert for at least three days. He was rushed to a hospital, suffering from exposure and extreme dehydration.
The man woke up afraid and confused; he had no idea what was going on. He was diagnosed with psychogenic amnesia, a condition caused not by physical injury, but by some traumatic emotional experience. While he quickly regained his physical health, his memory remained completely and totally blocked. The hospital staff gave him the name "Tyler" and enrolled him in a state funded program, which provided a job and an apartment. In the past nine months, several tantalizing clues have surfaced, but Tyler is still a man without an identity. He desperately hopes someone can finally tell him who he is.
Authorities in Las Vegas were baffled. They found no one reported missing who matched Tyler's description. There was no record of his fingerprints with the FBI, the Department of Defense, or the CIA. However, doctors did find two clues: evidence of hairline fractures in the knuckles of both hands and what is believed to be an old gunshot wound on his right thigh. Otherwise, it was as if he never existed.
Then, another clue surfaced. During a conversation with a fellow patient from San Diego, California, Tyler got the eerie feeling that he once lived there. But the recollections were vague and lacked any detail until he underwent hypnosis. Previously, his memories felt like words coming from his mouth or like he was looking at a piece of paper, but after the hypnosis, they came in the form of images and felt more lifelike.
Tyler started remembering the beaches and things around them. He also remembered a lot about the military bases there, such as the North Island Naval Air Station. He remembered a Coast Guard airfield and hangar across from Lindbergh Field. He also remembered that they have a gate that they open up and bring planes across Harbor Boulevard. He got a sense of belonging, like San Diego was the place that he needed to be.
Under hypnosis, Tyler also vividly recalled flying over San Diego. He was struck by the certainty that he knew how to pilot an airplane. He felt that getting behind the controls of a plane might help trigger additional memories. Accompanied by a flight instructor, he put his uncanny knowledge of flying to the test. He was given complete control of the plane and brought it in for a landing. The instructor concluded that, although a little rusty, Tyler had definitely flown before.
As time passed, more intriguing clues emerged. Although Tyler cannot remember his own name, incredibly, he can single-handedly dismantle and rebuild a sophisticated race car engine. He also possesses highly developed skills in scuba diving, martial arts, and computer programming. Perhaps most intriguing of all is his detailed and intimate knowledge of the bombing mechanisms found on the Navy's A-6 attack plane.
Many clues suggest that Tyler has some kind of military background. But no record of him has been found with the Navy or any other branch of the service. He feels that he is at a difficult point in his life and cannot move forward. He also feels like he cannot do anything with his life, as if he was an illegal immigrant. He has no identification of any form and no social security number, which makes him ineligible for work. He also cannot drive a car because he does not have a social security number or date of birth. He hopes that he will be able to find out who he is.
A county psychiatrist diagnosed Tyler as a genuine victim of amnesia. In September, his case took on added urgency when the state funding, which provided his job and apartment, was abruptly cut off. He now relies solely on the kindness of friends to provide food and shelter.
Extra Notes: This case first aired on the October 2, 1991 episode.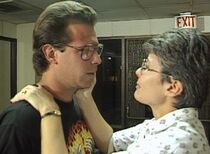 Results: Solved. On the evening of the broadcast, Tyler gathered with friends to watch it. Before his segment even aired in Las Vegas, a man from Boise, Idaho, called the telecenter and identified Tyler as his twenty-three-year-old son, Arthur Paul Beal, although he goes by his middle name. The show immediately contacted Paul. He learned that he was married, but had been separated from his wife since February 1990. He also had two children. Before he was stricken with amnesia, he lived in Boise. His mother, Lynn, and wife lived in Iowa. A few minutes later, a nervous Paul called the mother and stepfather he could not remember. The emotional phone call lasted twenty minutes.
A short time later, Paul's case took a stunning and unexpected twist. North Las Vegas police arrived and put him under arrest for grand larceny. He was wanted by Boise police in connection with a stolen shipment of frozen food. The next night, Lynn arrived from Iowa to post bail for him. Their reunion was both emotional and awkward. Paul apparently did not recognize his own mother. She hoped to help him bring back some of his lost memories. She was also just happy that he was alive and safe.
The reunion was tempered not only by Paul's amnesia, but by the criminal charge against him. In Boise, he was a salesman for a food supply company. On January 5, 1991, he left for Las Vegas to sell a shipment of frozen food. He never returned to Boise and was reported missing. On January 25, he surfaced with the empty truck in Boulder City, Nevada, where he was questioned but not arrested by local police. Boulder City detective Bob Baughman met Paul then and described him as intelligent, well-versed, well-educated, clean cut, and talkative.
Lynn stated that, while Paul had made mistakes in his past, she did not believe that he would be involved with any crime. When Paul left Boulder City, Baughman told him that Boise police would most likely get an arrest warrant for him. Baughman told him that he should go back up there to try and straighten things out. Paul told him that he was going to go back there and "take care" of the situation.
Three days after Paul was detained, he was found wandering in the desert. Baughman raised the obvious and disturbing question: Is Paul faking his amnesia? He believed so, stating that it would be easy to fake it. He felt that it would be especially easy for Paul because he was smart and convincing. Lynn did not believe that he was faking it. She did not believe that he would be able to fake not recognizing her. He maintained that he did not fake it.
In November 1991, Paul returned to Boise and pleaded guilty to a charge of petty theft. He served ninety days in jail. He was also ordered to pay restitution. His criminal case is now closed. According to relatives and associates of his, in November 2007, he suffered a heart attack, leaving him in a minimally conscious state. Whether his amnesia was genuine or faked will possibly never be determined.
Links:
---