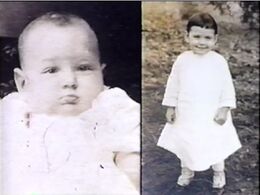 Real Name: Vernicy Bradford Lodgsen
Case: Lost Sister
Location: Murfreesboro, Arkansas
Date: 1915
Details: Eighty-six-year-old Ruby Bradford McDaniel has five children, fifteen grandchildren, and twenty-one great-grandchildren. However, despite having all of these family members with her, she still misses one whom she hasn't seen in over seventy-five years: her younger sister, Vernicy. In 1915, in Murfreesboro, Arkansas, Mac and Ruth Bradford owned a small farm on the edge of town where they lived with their two children, Ruby and Buster. Ruth was six months pregnant with Vernicy at the time.
One afternoon, Mac heard thunder and looked out the window to see a tornado coming towards the farmhouse. The Bradfords immediately headed outside to a nearby field. Mac laid his family down, laid on top of them, and held onto a guard post. Ruby believes that they all would have been killed if they had stayed in the farmhouse. The tornado killed ten people and injured forty-five others; $4 million in damage occurred (in today's money). The guard post was practically the only thing still standing. Although the farmhouse was soon rebuilt, they would soon suffer another tragedy.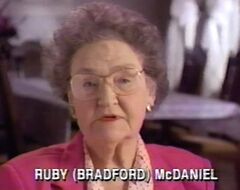 During the tornado, Ruth was severely injured when she was struck by a wooden beam. A few months later, while recuperating, she came down with yellow fever and went into premature labor. Tragically, she passed away just hours after Vernicy was born. The next day, Ruby, then seven, was shocked and confused as a couple came and took Vernicy away. Later, Mac explained to Ruby and Buster how they had lost Ruth and that Vernicy would be taken care of by another family. She was adopted by Mr. and Mrs. Logsden, who also lived in Murfreesboro. He was an attorney and she was a nurse.
Three years later, Mac took Ruby and Buster on a surprise visit to the Logsden home. Vernicy was at the window and they waved at each other. Sadly, this was the last time they ever saw her. A few weeks later, however, Mac received a photograph of three-year-old Vernicy in the mail. When she was six, the Logsdens moved away. Mac never heard from them again.
Eventually, Mac remarried and fathered twelve more children. He passed away in 1984 at the age of ninety-two. Ruby is still hoping to find Vernicy and reunite her with all of her siblings.
Extra Notes: This case first aired on the February 16, 1994 episode.
Results: Solved. Viewers' tips led Ruby to find Vernicy, whose name was changed to Mary Pernicy Logsden. Sadly, she passed away in a tragic accident in the 1940s. However, she did have several children whom have since been reunited with Ruby. Ruby passed away in 2006 at the age of ninety-nine.
Links: None
---